A Reputation of Excellence
Elite Landscapes & Pools specializes in custom designed outdoor living spaces that truly transform a house into a home. When you choose Elite to complete your outdoor project, you can be confident that you have selected the very best the industry has to offer.
Our experience stems from almost two decades of designing and building 700 projects in Central New Jersey. We pride ourselves in offering unique designs, quality craftsmanship, and unparalleled customer service.
Prior to owning Elite, president and CEO Rich Castaldi Jr, was no stranger to the construction industry. From a young age he was extremely passionate about architecture and sketching. He initially drew inspiration and experience from his Grandfather and mentor Armand, a foreman for one of NYC's leading construction companies.
Elite began as a part-time passion project for Rich while attending Monmouth University as a full-time business student. Upon graduation he decided to commit all of his experience and education into building his own business. Initially he focused on masonry, hardscape and landscape projects. His desire to learn all facets of the industry proved to be a catalyst for Elite's success. Rich and Elite continued to evolve each year and that meant responding to the trends and demands of the outdoor industry, eventually expanding Elite's services to include gunite pool construction. Once he was able to successfully develop a model that allowed his customers to consult with one company for both designing and building complete luxury outdoor spaces, he realized he had found a niche in the industry.
Elite now has over 22 employees, including a Licensed Landscape Architect, Certified Pool Builder, and a team of highly skilled crew members with incomparable craftsmanship. What sets Elite apart from the competition is that when you work with Rich and his team you have access to not only the best in house team, but his network of highly trained trade specialists to ensure a seamless project execution.
Being in the industry and building the company from the ground up has allowed for an expansive portfolio and impressive amount of completed projects throughout Central New Jersey. Elite has a portfolio of work that is recognized across North America and has been recently featured in Architectural Digest magazine as well as over 100 features in magazines including the cover project for Techo Bloc.
Richs unwavering loyalty, passion, and dedication to his company, employees, and clients has allowed him the opportunity to operate a leading outdoor design and build firm in central NJ. Not only does he love what he does, but he has been able to work with and maintain amazing relationships with his clients over the years
Our mission is to provide the finest quality product that incorporates our client's individual needs and vision. Each project Elite takes on receives our full attention from the initial design phase to the building stage. We assure on-time production while remaining committed to customer service and delivering 100% customer satisfaction.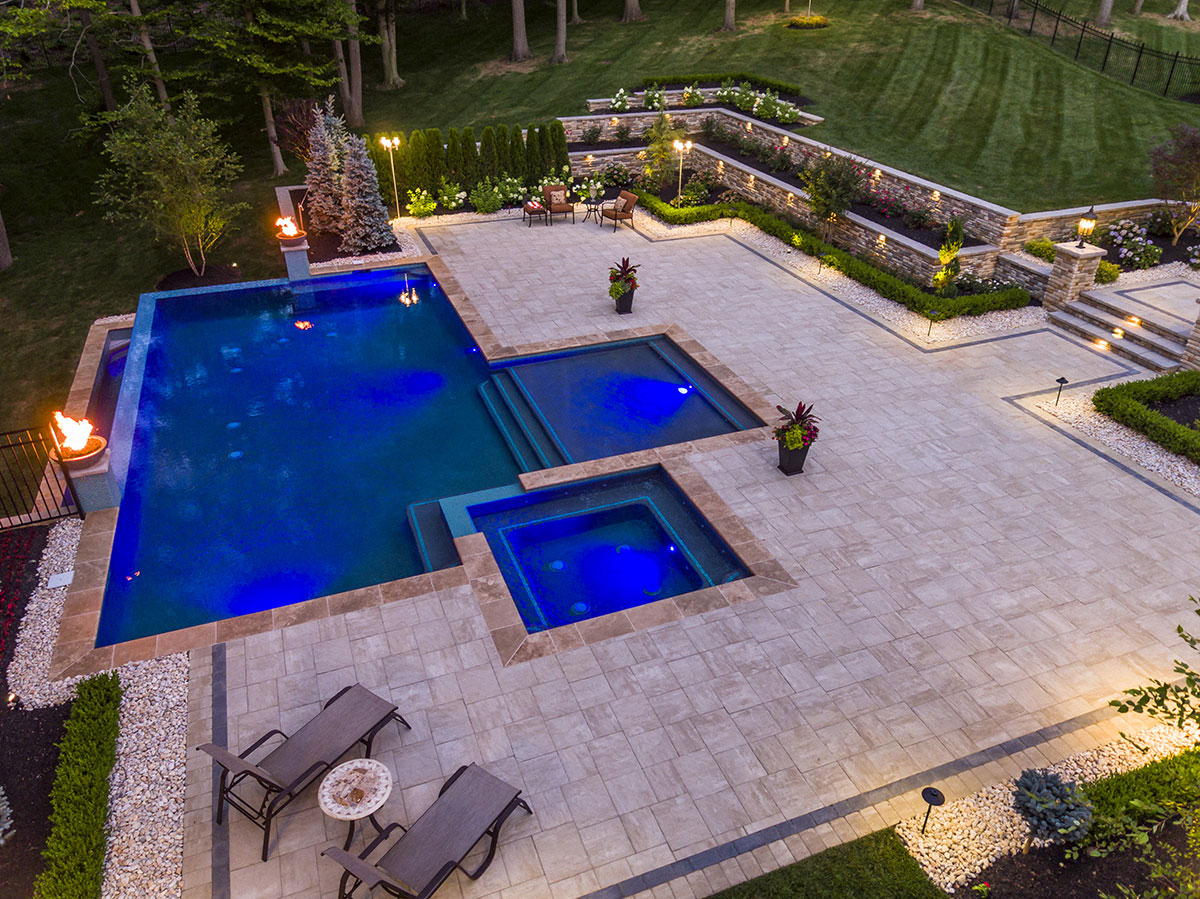 Elite has developed a systematic approach to both the design and build processes, which are highly recognized by our clients and peers. Our process ensures the longevity and quality of our installations and stunning transformations.
You can trust Elite Landscapes & Pools to deliver superior designs, the very best practices in installation, and unparalleled customer service.
Transform Your Backyard Into A Luxury Oasis
Experience the thrill of outdoor living like never before with Elite Landscapes & Pools. Let us turn your vision into a breathtaking reality!